RB Evaluation Back In The Spotlight
August 3rd, 2020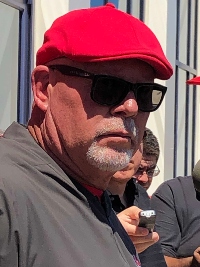 It's somewhat ironic how Round 5 of the 2017 NFL Draft played out.
The Bucs got their running back at No. 162 overall. The next RB off the board, 17 picks later, went to Bruce Arians in Arizona, before the Packers stepped up to draft a standout stud back.
The latter was Aaron Jones, the Packers' do-it-all, 1,000-yard rusher. Arians' guy is current Bucs backup T.J. Logan. Jason Licht's guy, well, he's had seven NFL teams and four career yards.
The Bucs' struggles evaluating running backs have been well documented.
Last year, Andre Ellington was Arians' veteran running back of choice to stabilize his young backfield and be a third-down presence for Jameis Winston. He didn't make the team — or any other team.
Now the Bucs have added third- and seventh-round picks to bolster the run game, and 32-year-old LeSean McCoy.
Joe's got a load of optimism for those moves, but the Arians-Licht tandem doesn't exactly inspire confidence when it comes to running backs. Arians struck gold with David Johnson in Arizona but never developed anything behind him. In 2017, without Johnson, the Cardinals ranked 30th in rushing and Arians retired.
The streak of backfield woes has to end this season for the Bucs. They certainly don't need to be spectacular, but they'll need to be at least decent to get where they want to go.
If the Bucs run game is a drag-you-down area again, why would Team Glazer trust these guys to get it right next year?