Marpet: "It's Unbelievable"
August 25th, 2020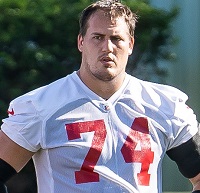 Tom Brady is tricky and lightning-fast mentally, Ali Marpet explained today, but in one area Brady is grading off the charts.
Asked about Brady's level of competitiveness following today's practice, Marpet gushed and said, "It's unbelievable. … He's an impressive, driven dude."
The Bucs' starting left guard said the veteran savvy of Brady is apparent in how quickly he identifies what he sees in the Bucs defense and how quickly and effectively he communicates that to the offensive line. Marpet marveled at how Brady is seeing things that he isn't.
And then there's a way Brady specifically stands out compared to a young quarterback:he way Brady "changes up the cadence, [does] all the tricky veteran stuff that comes with it," he said.
Joe's glad to hear how Brady is impressing a Bucs captain and a guy who commands a lot of respects from coaches and teammates.
It might not equate to wins, but it certainly feels great now.