"Makes You Want To Be 100 Percent Perfect"
August 15th, 2020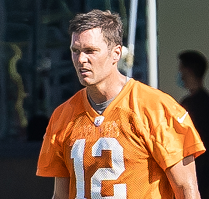 So what's been happening inside the walls of One Buc Palace?
Among other things, Joe learned that players were watching Byron Leftwich highlights from the offensive coordinator's playing days yesterday.
Joe learned that from a long shot roster candidate back for his second Bucs season, versatile John Franklin, III.
For a bubble player, Franklin is a big-time celebrity after the nation got know him as the quarterback featured in Last Chance U, the Netflix series chronicling the junior college football program at East Mississippi Community College.
Franklin found his way to the Bears as an undrafted free agent defensive back in 2018 and 2019, but landed on Tampa Bay's practice squad as a wide receiver in November before he was promoted to the active roster for the final game.
The 25-year-old has unique perspective on the game after playing for four college programs and taking on three very different positions.
He talked about his unique story yesterday on SiriusXM NFL Radio, but Joe was much more interested in Franklin's take on Tom Brady.
Being around Brady, Franklin said, "makes you want to be 100 percent perfect."
He added that the team Leftwich commands great respect and Bruce Arians has blessed him with a tremendous opportunity, and he talked about how their is a real "Super Bowl expectation" pulsating through the team.
As for his role, Franklin was cryptic, implying the Bucs have many uses for him — assuming he makes the team — and he could be the Bucs' emergency quarterback. He did have one rush last season for 11 yards.