Inside Bruce Arians' "Calculated Risk"
August 11th, 2020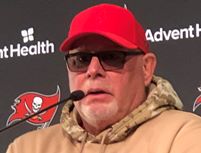 In a scary way, Bucco Bruce Arians literally is living his "No Risk It. No Biscuit" mantra.
He talked about it this week with his hometown newspaper.
Frank Bodani of the York Daily Record, talked to Arians, his wife and son for a feature on the Arians moving forward as he nears his 68th birthday with many health problems in his past and high blood pressure in his present. All put him at greater risk of a bad outcome if he were to catch The Sickness.
For me it's a calculated risk. I think the protocols are in place and it's very safe in the (team facilities). We're not going anywhere, there's no public events. It is hard."

COVID-19 has cut visits with his grandchildren and fundraising opportunities for the Arians Family Foundation, which is focused on preventing and ameliorating the abuse and neglect of children. He must also protect his wife, who recovered from double pneumonia a couple of years ago.

Still, he calls the move to keep coaching and enjoy every bit of his beloved camaraderie with his staff and players "a no-brainer."

He said his health is "night-and-day" better than two years ago, though he admitted to adding too much weight while quarantining at his lake property in Georgia.
There's more in the story but its message was simple and clear: Arians feels great, loves coaching — even more loves the opportunity he has with Tom Brady — and he's not going to shut down his dreams.