"I Don't Like Making A Lot Of Mistakes"
August 19th, 2020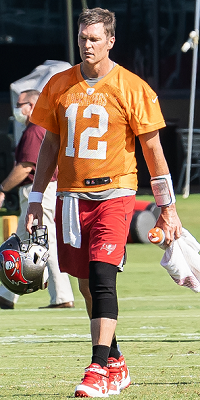 Tom Brady was talking this afternoon.
Of course, Joe was listening and taking diligent notes.
The most successful quarterback in NFL history is used to a ton of freedom — and using it — at the line of scrimmage.
The Bucs are counting on Brady's pre-snap genius to improve their No. 3-ranked offense.
But is there enough practice time to make that happen? Brady was asked about that on SiriusXM NFL Radio. The Bucs' franchise quarterback seemed a touch frustrated by his learning curve.
"We can't just do everything at one time," Brady explained. "I think we have to establish a foundation and a base and that's really what we're doing. And the only way to do it is to practice it and unfortunately make mistakes that, you know, when you do some things for the first time you go, 'Uchh, wouldn't have done that,' or 'Shouldn't have done that' or, 'Gotta learn from that one.'

"I don't like making a lot of mistakes. But,you know, that's just part of the learning process for me and hopefully we can get most of those out of the way before the real games start."
Joe's not concerned about Brady's readiness, just whether there will be enough prep time to get the real Brady, the guy who can maximize his brain while the play clock is ticking down and the pressure is on.