"You Gotta Throw That Previous Structure Out"
July 22nd, 2020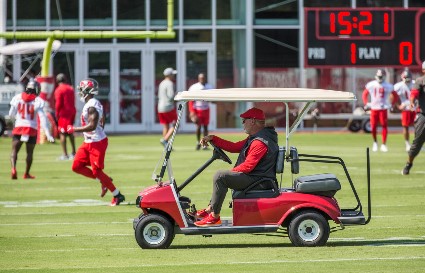 Like most head coaches, Bucco Bruce Arians takes great pride in his system and his coaching staff and how they do things.
Heck, Arians is so confident in his ways that he won't even scour the globe to find the best coaches available.

This wacky offseason has blown up any sense of normal and that includes how coaches will prepare for opening day, which is 53 days away. No preseason games or scrimmages against other teams means every coach will have to revamp how to get his team ready.
Toss the old playbook and figure out something new.
Arians is no fan of analytics but he is a devotee of sports science, and the Bucs have a team devoted to physical preparation. So Joe's very eager to see what Arians and friends come up with.
Former Super Bowl-winning head coach Brian Billick talked on SiriusXM NFL Radio today about the new challenges facing coaches. And he focused on gauging players' football shape.
Years ago, Billick said he felt his top job in Ravens camp was to "decide how much hitting can we get away with, how much hitting can I get away with and not beat my team up but still get in hitting shape."
And that was when two-a-days were permitted and there was a preseason schedule and spring practices.
What about now? How much hitting will Arians allow? For example, will Devin White be allowed to play freely at any point in August and blow up, say, Dare Ogunbowale catching a check down?
Joe expects a wide variety of opinions at One Buc Palace and around the league.
But only one guy's voice will matter to Joe on this critical subject: Arians.
Find away to have the Bucs as much or more ready than everyone else, Coach. With the NFL's largest coaching staff, a sports science team and Tom Brady, who comes with his own performance gurus, the Bucs have no excuses.