"Walk A Mile In The Man's Cleats"
July 10th, 2020
BY IRA KAUFMAN
You can bet Donovan Smith isn't the only Buccaneer troubled by health concerns heading into the opening of training camp.
He's just the second to say so publicly.
Smith took to Instagram Friday to detail his ambivalence toward the return of pro football amid a coronavirus pandemic. He didn't rule out his presence at One Buc Place later this month, but he offered no assurances about his participation.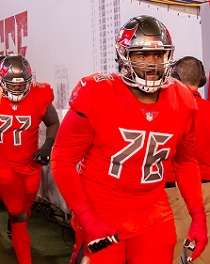 Smith's first child is due soon after players are slated to return to the facility. Who can argue with Smith's contention that the health of his family deserves to be his top priority?
If Smith opts out, his absence would create a major concern for the Bucs at left tackle, but protecting Tom Brady's blind side has to take a back seat to protecting Smith and his growing family.
My only quarrel with Smith's Instagram post is the inclusion of financial matters at the end of his statement. He suggests players should be entitled to raises across the board for competing amid the pandemic, instead of potentially seeing 35 percent of their paychecks withheld.
That's a money issue, not a health concern. My advice to Smith is simple: stick to COVID-19, not a bank account that few Buc fans can relate to.
Gray Area
The NFL is still deciding on its stance regarding players who plan to opt out of the 2020 season. The issue isn't whether those players would be paid their base salaries — they would not.
But there are complex contract details to be worked out with the NFLPA and players may face a firm deadline to declare their intentions.
Smith is an intelligent man grappling with a difficult decision.
While he has the financial wherewithal to sit out an entire season, he has invested five years of sweat equity into this organization and his teammates. When Smith looks at this roster, now led by Tom Brady, he has to like his chances of playing in the postseason for the first time.
That prospect is very enticing.
But when his head hits the pillow, Smith doesn't rest easy. His personal sleep number is off the charts because the idea of returning to One Buc Place at the moment is chilling, no matter how many safety protocols the NFL has issued.
Let's hope Smith's fears don't materialize during camp or the regular season. Let's hope Buc players, coaches and support staff remain healthy and the 2020 season concludes, as scheduled, with a Super Bowl in Tampa in early February.
Ease Up
At this point, we know Brady intends to report on time. He says he's having fun again and Buc fans share his enthusiasm about the upcoming season. But that fun could quickly turn into concern if the virus infects this roster in a significant way.
Smith is already concerned, and his trepidation is understandable.
If he opts out, Smith shouldn't generate scorn from Buc Nation. Walk a mile in the man's cleats before you criticize him.
Every NFL player is trying to balance these issues before reporting day. It's an agonizing decision, one that should be supported by fans no matter which way it goes down.
Every Buc player, from Vita Vea to Ronald Jones, has a deeply personal choice to make. It's a dilemma unprecedented in the 100-year history of the NFL.
Let's hope these dire circumstances never come our way again.
To play or not to play … that is the question. Bring on the answers.
Enjoy Mike Alstott's June interview on the Ira Kaufman Podcast.


Bill Currie Ford
813-872-5555
5815 N. Dale Mabry Hwy.
Tampa, FL 33614
BillCurrieFord.com