Troubling Signal From Donovan Smith
July 19th, 2020
For those Bucs fans that dismiss messages from NFL players saying they may not play this fall, in particular Bucs left tackle Donovan Smith, a reassessment may be in order.
After the latest in a series of proposals the NFL has sent to the NFLPA to try to jump-start training camps throughout the league and have an NFL season, Smith dropped hints on social media that the possibility park-violating, park-invading, NFLPA-ignoring Bucs quarterback Tom Brady's backside will be protected by a backup or a rookie left tackle shouldn't be an idle thought.
Today, several NFL players took to Twitter to voice their displeasure that the NFL proposals to get players on a field are, per the players, insufficient for safe practices and/or games amid a global pandemic.
Further, players allege the NFL is not listening to the players, and not listening to its own medical advisors. Thus, players are starting to make noise and threaten not to play football.
And who retweeted several of these messages today on Twitter? Smith.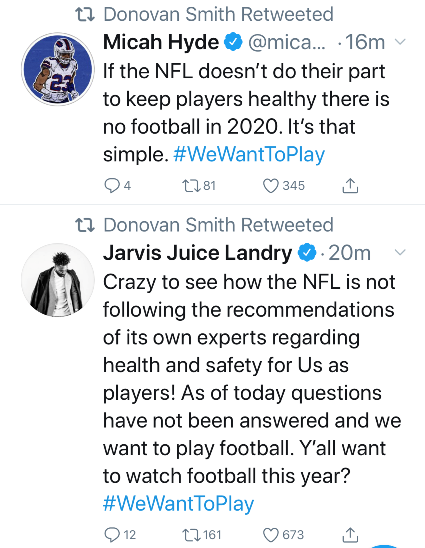 Now Smith famously stated on Instagram recently he is "not a lab rat."
Smith also retweeted a message from Drew Brees who also threatened the NFLPA may not report to camps if the NFL doesn't offer its employees a safer environment.
We need Football! We need sports! We need hope! The NFL's unwillingness to follow the recommendations of their own medical experts will prevent that. If the NFL doesn't do their part to keep players healthy there is no football in 2020. It's that simple. Get it done @NFL

— Drew Brees (@drewbrees) July 19, 2020
Joe counted some 14 (and counting as of 1:30 p.m. Sunday) retweets Smith sent of players threatening to stay home this fall using the hashtag #WeWantToPlay.
Among the twitter posts Smith retweeted came from Trent Brown, Russell Wilson, Carson Wentz, Khalil Mack and Brees.
Joe can sympathize with the players. This isn't about dudes dying. That's overly dramatic if not a reach. This is about a very, very contagious virus that has rendered some young, athletic victims a shell of their former selves, maybe forever.
So yeah, Joe sympathizes with players who see their careers totally ruined by catching a virus going to work. If the players are eager to return to football and play games (it seems they are), Joe cannot understand why NFL management wouldn't want their valuable investments (yes, let's look at this with cold hard numbers) to stay healthy, both for today and the long haul.