"That's The Only Way You Can Get Better"
July 23rd, 2020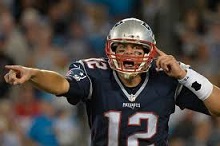 Four-time Pro Bowl quarterback Boomer Esiason changed teams three times after he turned 30 years old, so he knows quite a bit about transitioning to a new club at the position.
He also knows Tom Brady.
Per Esiason on his WFAN radio show, Brady was keenly aware that the pandemic could wipe out the preseason and knew he had to overcome that huge loss. Yes, Esiason said no preseason games are a devastating blow to QBs in Brady's position.
"I just always felt, even as I got older, that I need to play [preseason], especially if you're on a new team," Esiason said. "So if you're Tom Brady, you're Cam Newton, you're Nick Foles, and you're on these new teams and you're trying to figure out your new teammates, you're trying to figure out a new playbook, you're trying to figure out the coaching staff, and all the things that go into becoming a successful quarterback, you want more time on the field. That's the only way you can get better.

"That's why Brady has been running these practices down in Tampa Bay. He knows that he has got to get on the field with these new players, get the feel for them, know what they're good at, know where he can throw the ball where they can go make plays for it."
Esiason went on to talk about how cancelling preseason is a feel-good public relations move for owners because they make so little money, if any, on preseason games. So it's no big deal to kill them and claim it's in the name of player safety.
During Esiason's playing days (1984-1997), he said he always wanted to play into the third quarter of two preseason games per year. But no coach let him do it twice, he said, only once a year.
Joe found it especially interesting when Esiason talked about how awful media coverage can be for players in preseason, when analysts are evaluating football that isn't real as backups shine against poor competition in meaningless games.
None of that fun will exist this year.
The first look at the Bucs will be Brady jumping off the high diving board into the deep end of a Saints defense that allowed just 21 points per game last year.