No Practices Until August
July 20th, 2020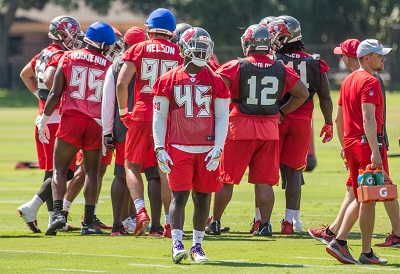 There's fresh news in the quest to safely return Bucs football — and all NFL football — on time for the start of the 2020 regular season.
NFL.com has typed up a story on the latest agreements, and there are more to come, between the league and the players union.
In short, when veterans report on July 28, they'll be looking at getting a Coronavirus test and then getting kicked out to go home and study online with teammates.
The final testing protocol agreed to by the NFL and NFLPA extends to the initial screening timeline, NFL Network's Tom Pelissero reported, as players will be tested on the first and fourth days of camp, with two days of remote education in between. The idea behind this protocol is that waiting another day will aid in capturing the virus as it incubates. Therefore, veteran players who report on July would get a physical no sooner than Aug. 1.
So once players are deemed virus-free, they'll get the typical pre-training-camp physicals and start a conditioning period — one that will not include guys in pads in a few days knocking the crap out of each other.
There is expected to be a weeks-long conditioning period before players put on pads for a regular practice. And the sides are still discussing how many, if any, preseason games will be played.
Maybe the pads come on in practice by Aug. 16, and maybe there's a one preseason game in late August before opening Sunday on Sept. 13.
That appears to be the current best-case scenario for us football-starved peasants.