"It Didn't Matter How Great You Defended Him"
July 13th, 2020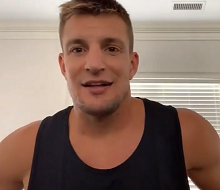 Now in his ninth season after being undrafted in 2012, former Pro Bowl safety Michael Thomas reflected on his career today, which included a take on new Bucs tight end Rob Gronkowski.
Thomas is the fill-in writer today on Peter King's Football Morning In America column for NBC, and he used some of the space for reflecting on his career and football experiences.
Yes, he gushed about Tom Brady and shared his rookie moment of picking off Brady to win a game for the Dolphins. But he felt compelled to express that Gronkowski was the greatest tight end he's seen.
I think Rob Gronkowski was that guy where it didn't matter how great you defended him all game. The defense knew that he was going to find a way to seal himself off or get himself open and find a way to score. He was definitely the toughest tight end to face, because he knows Tom Brady is going to find a way to get him the ball. He was a mental problem because he had a great quarterback (and this season he'll have him again) and he's a big dude who can move and be physical. It was always a battle. But we knew to keep guarding him, keep battling, because otherwise he's going to make plays.
This has Joe doing an early-morning cheer for Gronk to be at least 85 percent of the player he was during his glory days in New England.
Man, if Gronk can just stay refreshed after a year off to rest his battered body, then Brady will have that true go-to option while he develops a second one among the Bucs' arsenal of weapons. That should be so incredibly key to the fast start the Bucs — and Bucs fans — desperately need.