Gronk No. 10
July 7th, 2020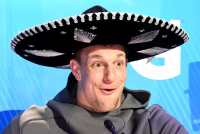 Can a future Hall of Famer be No. 10 at his position?
A gambler who takes deep statistical dives into the NFL believes so.
Warren Sharp is about to release his annual football preview and it is some really fun stuff. Sharp, who used to be a regular fixture with the late dean of Tampa Bay sports radio, "The Big Dog," Steve Duemig, can often be seen on FS1.
Sharp makes a living in gambling and his yearly football guides are geared toward getting an edge at football wagering. It is very stat-heavy but unlike the stat geeks, Sharp's info is for the football proletariat, not the self-anointed elitists.
If you follow Sharp on Twitter, he offers peeks into his football preview periodically. Last week he Twittered out the ranking of his No. 10 tight end (Sharp combines tight ends with fullbacks — that is another story for another time). Sharp's No. 10 tight end happens to be Bucs tight end Rob Gronkowski.
"We're giving Gronk a relative pass here in that he hasn't played since Super Bowl LIII, he hasn't played a full 16-game season since 2011, he hasn't enjoyed a 1,000-yard season since since 2017 and he will be working in a new offense without the benefit of minicamps and training camps on a standard schedule. But he's also the guy the Patriots needed to win that final Super Bowl on the crucial game-winning drive, and once he gets his bearings in Bruce Arians' offense, he should be able to bring at least some of the old Gronk to the field."
You may think Gronk, a future Hall of Famer, is a bit low at No. 10. But Joe thinks Sharp may be right on. His points are reasonable but notice Sharp seems to think Gronk will improve as the season progresses. So long as he stays healthy.
Joe has a hunch Gronk will be a major target in the red zone. Just watch: With Brady being rather unfamiliar with the rest of his Bucs targets, he'll instantly have a sixth sense where Gronk will be and Brady will expose defenses in the red zone by hitting Gronk.