"Every Year We Had A Stacked Roster"
July 6th, 2020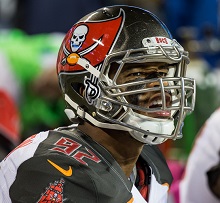 In 2017, the nation watched quite a proclamation on Hard Knocks before the same decree was made by a Hall of Famer in 2018 and the boss of the Bucs in 2019.
Then-Bucs coach Dirk Koetter stood in front of his team three years ago and said the Bucs were the most talented team he had seen in Tampa Bay since arriving as offensive coordinator, including his 9-7 club from the year before.
Father Dungy lauded the Bucs' playoff talent in 2018. And Bucco Bruce Arians dropped the hammer last June. "Talent is not the issue here, is it?" Arians said. "We've got plenty of f*cking talent."
Defensive end/tackle Will Gholston has been around these parts since being drafted by the New Schiano Order in 2013. He's been making big money for the past three seasons and told WFLA-TV last week that he's fired up to see how Tom Brady works and leads, and what it's like to grind with him in practice so Gholston can gauge the change in the team.
"Every year we had a stacked roster, but I want to see if we do what we got to do," Gholston said.
Yep, "stacked roster" — and a couch seat in January after a 3-5 or worse start to the season.
Joe will beg the football gods to stop the torture of innocent Bucs fans.
Gholston said he and fellow linemen are busting their butts to be ready for training camp, which has Joe all fired up. Hopefully, that also means Vita Vea's hand surgery isn't overly debilitating.
"I can't be accountable for everybody else, but I know most — not even most — all of the D-linemen right now, we're working, the interior D-linemen," Gholston said.