Disturbing Trend
July 13th, 2020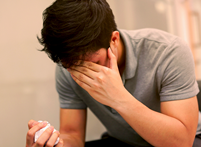 Joe read this and wanted to vomit.
Going through his copy of Warren Sharp's 2020 Football Preview, Joe noticed an ugly trend last year that should give all Bucs fans the shivers.
When a team is trailing, one would hope said team is trying to get the ball to its best players, no? And one would hope when down by two scores, you are throwing downfield, no?
Well, those would be "no" for the Bucs last year.
Sharp has a stat that shows who on the Bucs' offense touched the ball when it's a one-score game, trailing or leading "big" (9-13 points) or in a "blowout" (14 or more points). When the Bucs were trailing by 9-13 points, they sure didn't spread the ball to the many talented weapons.
The good: The guy who had the most catches when trailing by 9-13 points was tight end Cam Brate. He got 36 percent of the balls when trailing by 9-13 points. That's good! He's a good player.
The bad: The guys who had the most receptions when trailing by 9-13 points after Brate? The sorry Bucs running backs. Peyton Barber and Dare Ogunbowale each had the ball 18 percent of the time. Ronald Jones caught 16 percent of the passes in this category.
When a team has Mike Evans, Chris Godwin, O.J. Howard and Breshad Perriman on the roster and your running backs, who one guy doesn't think are even the top-40 running backs, are getting fed the ball more, that's alarming.
Outside of someone collecting a check from Team Glazer, who knows exactly why that was? Joe would hope this was because defenses blanketed the Bucs receivers to the point the running backs were the only guys open.