Bruce Arians Talks About Coaching Changes
July 7th, 2020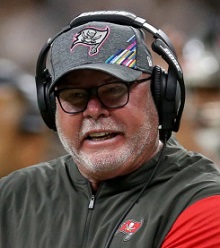 The in-your-face, feel-my-wrath version of Bucco Bruce Arians won't be the same this season.
A team meeting?
Count on Arians being inside the giant Glazer shed using a microphone, with players a good distance away and presumably sitting in the bleachers six feet apart.
Arians told TampaBay.com about that and other changes coming to One Buc Palace as the 67-year-old coach will be exercising an abundance of caution tied to The Sickness, especially since he's not in superior health.
One quote Joe found especially interesting, Arians noted 81-year-old assistant coach Tom [Moore] "is probably the healthiest one of all of us," and added, "We've got to be careful. The players, they're going to all get sick, that's for sure. It's just a matter of how sick they get."
It seems wants all players expecting to get coronavirus and is more concerned about how they deal with it individually and as a team. Joe finds that to be a strategic tactic by Arians. Joe suspects some NFL coaches will go the other route — emphasizing to players that they'll be fine and protected in every possible way.
Joe talked on the Ira Kaufman Podcast about Arians potentially having a raised coaching platform on the playing field during practices and games. So he often can stay above the heavy-breathing range of those around him. That certainly couldn't hurt.
But if Arians is convinced all players are going to be sickened by The Sickness this season, then it would almost be a miracle in that scenario if Arians could get through seven months around the team and stay uninfected.
Joe absolutely hates typing that. What a mess.