Winning Opportunity
June 3rd, 2020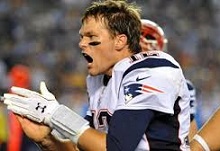 One of the greatest kickers in NFL history was talking about one of his friends and ex-teammates today, Tom Brady, as well as about his former head coach, Bucco Bruce Arians.
Of course, Joe is referring to Adam Vinatieri, who just completed his 24th NFL season.
Vinatieri is a 47-year-old without a team right now, and he joined WEEI sports radio in Boston for a chat that included questions about Brady's move to lead the bumbling Buccaneers.
First, Vinatieri was asked how Brady will fare in the "frat house" kind of atmosphere run by Arians. No, Vinatieri didn't dispute the description.
"I was very fortunate to have [Arians] as my coach for a little while in Indy, and I really, really admire the guy," Vinatieri said.

"… The thing that's great about him is he has no fear. Like he'll be the guy where they'll be up by four points, and it's 3rd-and-long and  there's a minute left on the clock. Normally, most guys hand the ball off, punt, and let your defense do it. Bruce is the guy that does a play-action pass and throws it for 25 yards down the field and gets a first down, then they kneel it out and it's done.

"I say that because it happened. I was part of games, and I just shook my head going, 'this guy is ballsy and he goes a hundred miles an hour.' And I think Tom's going to love it because I'm sure they gave Tom the keys to the car and said, 'run this thing like you want to.'"
Vinatieri went on to praise the Bucs roster and said he really expects Tampa Bay to be at the very top of the NFL this season.
As for Brady moving to Tampa, Vinatieri said he's confident Brady's relocation was about winning.
"I know he was…he was wanting some weapons. He wanted to continue to do his thing, and I think he just kinda looked at it and said, 'You know, if I'm gonna keep doing this I want to have the best opportunity to continue to win, and for some reason he didn't think that was with the Patriots at this point," Vinatieri said.
What about Vinatieri joining the Bucs for his 25th season?
The future Hall of Famer said he wants to play in 2020, but he doubts he'll be fully healthy after knee surgery much before opening day. He added that he's preparing as if he will play and invites teams to give him a call when he can get on the field.