Warren Moon Says He Sees The Loss Of Pop In Tom Brady's Arm
June 9th, 2020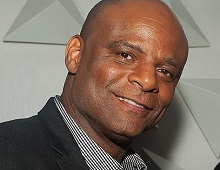 Hall of Fame quarterback Warren Moon pulled no punches during a chat on national television this week.
If there's one guy who knows about being a starting quarterback at 42 years old, it's Moon, who was a Pro Bowl QB for the Seahawks at 41 years old and started the following year. He retired at 44.
Moon told The Herd that he's a huge fan of Tom Brady, but the reality of age is apparent to him in Brady's game.
"I still think it's remarkable what Tom is doing, and he's still playing really good football," Moon said. "But I can see, especially as it gets later into the season, and you can see this with Drew Brees and some of the other quarterbacks, as well.

"Their arms don't have the same pop at the end of the season that they had early in the year. And that has to do with their age. And that's something I started to see in my career when I got older – that I didn't have that same pop in my arm. And a lot of it has to do with your legs, because you just become fatigued over the course of a whole season. You saw Tom's arm that same way at the end of last year. So, yeah, it's not a huge deterioration where you can't throw certain routes. But there will be time when it gets late into the year that you're going to see some of that."
Moon likes that Brady has lots of talent around him in Tampa and won't be asked to carry the load as much as he did with the Patriots. He was firm, however, that the Bucs aren't getting the Brady many fans think of, "He is not the same quarterback he was three or four years ago," Moon said.
The late-season weakness in the legs point by Moon is a good one. Of course, Brady is a unique athlete with a commitment to fitness unique to his position.
Father Time vs. Tom Brady in 2020. Hopefully Brady beats his ass for another season.