Trust Before Fun
June 25th, 2020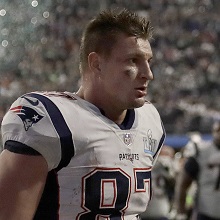 It won't be Patriots South in Tampa — at least not right away, says a guy intimately close to Rob Gronkowski.
The Bucs' $10-million-per-year tight end is known for his fun-at-all-times reputation, but one of Gronkowski's ex-NFL brothers explained to Tampa's ABC-TV affiliate that the Bucs' new free agent won't be a fun-first guy Tampa.
Chris Gronkowski, who played fullback for the Cowboys, Colts and Broncos, said "Gronk" is pretending he's a rookie again and once he's confident, and has earned everyone's trust at One Buc Palace, then fans will see the fun oozing from Gronk like they're used to watching.
Joe liked how the elder Gronkowski laid out that take, and it got Joe further thinking about how the Bucs really were the perfect new team for Gronk.
Many other clubs would have looked to Gronk for a level of leadership and tone-setting out of the gate that might have been more than he could handle — and certainly more than he was used to.
In Tampa, he can just let Brady drive the bus, grind until he feels comfortable, and then be used more as a specialty target and have all the fun he wants without all the punishment.