"Tough Dude"
June 6th, 2020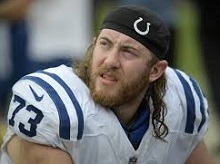 J.R. Sweezy and Ryan Jensen were "nasty" offensive linemen signed by the Bucs in free agency in recent years, not only to play but to rub off some of their grit on the linemen alongside them.
Whether that worked or not is debatable.
The Bucs signed another free agent offensive lineman this season, Joe Haeg, the 2019 sixth man on the Colts' line.
Joe has no idea whether Haeg is participating in the Bucs' voluntary online work. Joe asked Donovan Smith and Ali Marpet for their impressions of Haeg, who logged 35 starts at tackle with Indianapolis over the last four years. Neither had much to say but Marpet acknowledged he's seen Haeg in the weight room.
"I've worked out with Joe. I met Joe before. I know he's a tough dude," Marpet said. "He's a good football player; I've seen him on tape for a while now. So I think that he's an excellent addition for us."
"Tough dude" sounds good to Joe.
Haeg is poised to be the Bucs' swing tackle, and he can play guard. One would think rookie Tristan Wirfs is a slam dunk to start at right tackle. But if Haeg is the "tough dude" Marpet says he is, then Wirfs might feel healthy pressure from Haeg through training camp, which should only make Wirfs better.