Team Turmoil In New Orleans
June 4th, 2020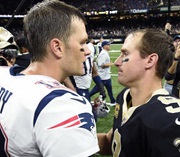 Fans are lectured often by NFL team officials and players about the importance of team chemistry.
The take can be overblown, but it is legitimate. Anyone who's played competitive sports knows a united team is better than one divided.
Once upon a time, Joe played on a college team with a player who was a coach's pet and was widely disliked by teammates. Joe was completely neutral on the guy but understood why others didn't like him. No big deal, until the guy got injured early in the season — on the road. It was a rather ugly injury, and Joe rushed over as did one other teammate. But that was it. Joe's other teammates made it clear they didn't care, and Joe realized in that moment that the team wasn't going to win many games.
Enter Drew Brees, quarterback of the Bucs' opening day opponent, and their major 2020 rival in the NFC South.
Brees was asked on video by Yahoo! Finance yesterday how he thinks the NFL will respond this season if players kneel during the national anthem, and he was asked what is his responsibility as a major leader in the league during times like this — for his teammates and other NFL players.
Brees didn't answer the question.
He began talking about what he thinks of when he stands for the The Star-Spangled Banner.
Several Saints teammates erupted on social media, blasting Brees in various ways for not understanding why players knelt during the anthem in the first place, among other things.
As a Bucs fan, Joe is loving this turmoil on the Saints, which finished 13-3 last season. It's feels like a toxic situation for their locker room, which can only be good for the Bucs. Of course, Joe is a human and hopes Brees and his teammates can come together as people and use their collective influence for great causes, and be great models in their community. But it sure would be nice if that takes time to rectify and at the very least serves as a distraction for the Saints' opening-day preparation.
Highlight: @readdanwrite asks @drewbrees what the star NFL quarterback thinks about "players kneeling again when the NFL season starts."@drewbrees: "I will never agree with anybody disrespecting the flag of the United States of America or our country."

Full exchange: pic.twitter.com/MpCkFyOMed

— Yahoo Finance (@YahooFinance) June 3, 2020