Rondé Barber Compares Falcons To Bucs
June 1st, 2020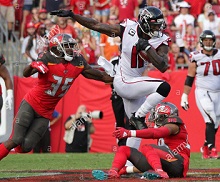 If you believe the Bucs defense came on crazy strong last year and is poised to continue that run in September, then you probably think the same thing about the Falcons.
Atlanta won six of its final eight games, including a 26-9 win at New Orleans and a 29-22 comeback victory at San Francisco.
Bucs fans routinely block that reality out of their minds when fantasizing of Tampa Bay marching easily to a 12-4 record and their first NFC South title since Jeff Garcia was quarterback.
Buccaneers icon and FOX analyst Rondé Barber chatted with his brother Tiki Barber on CBS Sports Radio last week and spoke about the Falcons being a lot like the Bucs.
Rondé Barber talked about how the Falcons moving Raheem Morris from wide receivers coach to defensive coordinator at midseason was a catalyst.
"You saw an immediate change," Barber said of the Falcons defense. "So the process is obviously better on that side of the ball. But they still need talent. I [didn't] think that their young guys were up to the task last year. So I predicted that they would [struggle] and they did. They couldn't score enough points to keep up with a bad defense. Very similar to Tampa. Tampa had a team that put up a lot of points but their defense was young on the back end and they just couldn't stay in football games."
The Falcons are 43-37 through five seasons with head coach Dan Quinn, plus a 3-2 record in the playoffs. Yet a lot of Bucs fans think they'll be a pushover for Tom Brady's Bus. Joe sure hopes so! Joe might cry if Todd Gurley looks like Todd Gurley.
Tiki Barber thinks a big key to the NFC South will be Brady finally playing in what he called a "stacked" division after years of patsies in Brady's former division. "There was no competition in the AFC East," he said.
Rondé Barber concurred. "Yeah, theoretically no competition. Right? They still had to play the games to win. But it got kind of ridiculous. He won 9 or 8 division titles in a row." (The exact total is actually 11.)
In what qualifies as one of the oddest takes of May, Tiki Barber also is very upbeat about the Panthers.
"…Christian McCaffrey's one of the best players in football, period," Tiki Barber said. "Forget the position. Forget the fact he's a white running back; he's a stud. So the division is probably the toughest one in football."