Report: Hand Surgery For Vita Vea
June 27th, 2020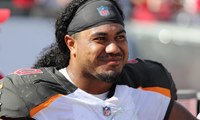 What happened to Vita Vea?
Joe's not sure, but whatever happened it was enough to send Vea under the knife.
That's the word from the Twittering of TampaBay.com beat writer Rick Stroud.
Bucs DT Vita Vea suffered an unspecified hand injury and underwent a minor surgical procedure a few weeks ago. He may miss some time early in camp but will not have any limitations once the regular season begins.
So, we are to believe this was minor surgery in early June and Vea will have to sit out camp seven weeks later? He can't practice with a club covering on his hand nearly two months later? That's seems odd to Joe.
Regardless, this Vea news comes as word flowed yesterday of Jason Pierre-Paul having "minor" knee surgery.
Joe has no reason to believe Vea's injury came at a Tom Brady workout, which some believe is a threat to national security.