Report: Bucs Made "Quarter To Quarter" Medical Decisions On Jameis Winston
June 10th, 2020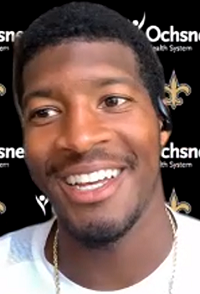 What would our beloved Tampa Bay Buccaneers roster look like now if Jameis Winston sat out the last two games of 2019?
It's a great question over an ice cold Bromosa from Big Storm Brewing Co.
Jameis, America's backup, would have ended his season on a four-game winning streak, with 4,600+ passing yards, 30 touchdowns and 24 interceptions — and a broken thumb to nurse while he waited for a contract offer.
Also, the Bucs would have a far better knowledge of what they have in backup QB Ryan Griffin and, gasp, the Bucs might have won one of their final two games if Griffin played pretty well compared to Jameis' bad performances. In that scenario, Tristan Wirfs would have cost more 2020 draft capital and Bucco Bruce Arians would have avoided the stain of a losing season.
Jameis opened up to Bleacher Report for an extensive feature this week, including proudly proclaiming he's one of the highest performing quarterbacks in NFL history. Joe primarily was interested in writer Tyler Dunne painting a picture of the Bucs medical staff walking a senseless tightrope with Jameis late in the season.
He can still remember all the Should I play? talks with Bucs medics, week to week, quarter to quarter. Yet even with star receivers Mike Evans and Chris Godwin lost to hamstring injuries, even with playoff hopes dead and a potential free-agency windfall looming and every logical reason to shut it down in late December, the choice for Winston was easy.

It's always been easy.

The choice is central to his football mentality.

"No injury, unless it's something really, really serious, is going to keep me from going on the field," [Jameis] says. "Because I've got my teammates out there. They're depending on me. The whole city of Tampa was depending on me."
Joe gets why Jameis wanted to play. He was riding a four-game winning streak and a strong Week 16 performance in a nationally televised game against the Texans would have scored Jameis a fat contract somewhere.
He gambled and lost.
The Bucs appear to have gambled and won.