"It's Often Counterproductive"
June 13th, 2020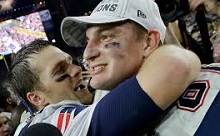 One guy has a lot of street cred when he talks about Tom Brady and the extreme expectations that come with a legendary quarterback arriving to a crappy team.
When Brett Favre was traded to the Jets at 39 years old, Eric Mangini was their head coach. You think expectations are high for the Bucs this season with Brady? They were every bit as high for the Jets in the media capital of the world. Those Jets went 8-3 but crumbled to finish 9-7.
Mangini also was Bill Belicheat's former Boy Wonder assistant defensive coach with the Jets and then earning rings with New England, where he spent six years around Brady.
Add Mangini to the list of pundits saying Brady's new teammates have no idea what they're in for when it comes to pressure and scrutiny. And for some of them, it won't go well.
"It's incredibly difficult and it's the problem that Cleveland went through last year," Mangini said on ESPN TV. "When you insert significant expectations to a season, everything changes.

"The way that people play you [changes], the way that you're perceived externally and the pressure that guys often put on themselves because of those expectations, it's often counterproductive and not an asset at all. As much as people want to be recognized and to be respected, often times they can't handle the pressure that comes with those expectations."
Now Joe's not about to compare the 2019 Browns to the 2020 Bucs, but Joe gets what Mangini's saying and he's certainly been in those situations.
Mangini added that what's normal for Brady and Rob Gronkowski will have them putting even more pressure on their new teammates.
Joe has no doubt that some Bucs will crumble and others will thrive under this high-pressure season. Hopefully, the balance is just right and enough to vault them into the playoffs.