"He Didn't Look It"
June 1st, 2020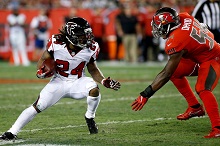 Joe spent time over the weekend watching Devonta Freeman film and listening to those who watched the running back play over the years in Atlanta.
One plainspoken take came from 11-season, 426-catch tight end Randy McMichael, who now works on sports radio 92.9 FM in Atlanta.
McMichael thinks Freeman will be "really good in somebody's committee" but isn't the No. 1 back he once was.
"There's no reason I could give you other than the fact, you know what, yeah, he played 15 games but he didn't look like the same Devonta," McMichael said. "I kept saying it last year. He just doesn't look as explosive as Devonta used to look. He didn't look it, and I think that's what team's saw."
Of course, Joe brings this up because of the report last week out of Philadelphia that the Bucs have legitimate interest in adding Freeman. So do the Eagles, per the report, and Freeman turned down the Seahawks before they signed Carlos Hyde, according to multiple reports.
Freeman caught 59 balls last season, hauling in a whopping 84 percent of his targets and finding the end zone four times. He's always been a threat out of the backfield, and he had 1,066 all-purpose yards last year. Heck, he even had a respectable 58 yards in the season finale against the Buccaneers' league-best run defense.
Joe doesn't care what Freeman once was, or will be in 2021. If he lands on the Bucs roster, he might be the best they got, and isn't that what this season is all about, loading up the roster and going for broke?
Freeman won't make a ton of money. There's always a way to squeeze room under the salary cap for a guy at that price tag.
The crew of Ronald Jones, Dare Ogunbowale, T.J. Logan and two rookies makes Joe feel like the all-in Bucs could do better.