Flagging Bruce Arians For Inaccuracy
June 6th, 2020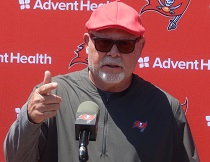 Joe has heard the following chatter from Bucco Bruce Arians previously, and the head coach really laid it on Thursday.
But it's just not accurate.
Arians has been a little sensitive about the Bucs' running game. He likes a lot of what he sees, more than most observers, and Arians is quick to defend it.
However, the rushing attack wasn't very effective last year. The Bucs were 14th in rush attempts, 24th in rushing yards, and 28th in yards per attempt.
That's ugly, especially when your quarterback rushed effectively and represented 17 percent of your rushing yards.
On Thursday, Arians was asked what would get his running game going in 2020.
"Quit playing from behind," Arians answered with urgency in his voice.

"You know, the biggest thing with all those turnovers is that we were usually playing from behind and spotting people 10 to 14 points. As a playcaller, I know the feeling of when you're down 14 in the first quarter, it's like, 'We gotta catch up.' So you abandon [the run game]. I think at times we ran the ball really well in November and December when we wanted to. We just didn't do it enough. To be able to play equal, even ball games, or with the lead, I think that helps your running game more than anything."
And this is where Joe throws a flag. Sorry, coach, you weren't "usually playing from behind."
Below are scores from the Bucs' 16 games last season. In six games, Tampa Bay spotted opponents big early leads, but four of those six games were close by halftime. The Bucs led at halftime in 9 of 16 games and were tied in another.
Niners  – Bucs led at halftime 7-6
Panthers – Bucs led 10-9 at halftime
Giants – Bucs led 28-10 at halftime
Rams – Bucs led 28-17 at halftime
New Orleans – Bucs led 7-3 after 1st quarter, trailed 17-10 at halftime
Panthers – Bucs trailed 17-7 at halftime
Titans – Bucs trailed 14-3 after 1st quarter, 17-15 after 2nd quarter
Seahawks – Bucs led 14-7 after 1st quarter, 21-13 at halftime
Cardinals – Bucs led 17-13 at halftime
Saints – Bucs trailed 13-0 after 1st quarter, 20-7 at halftime
Falcons – Bucs led 19-10 at halftime
Jaguars – Bucs led 15-0 after 1st quarter, 25-0 at halftime
Colts – Bucs trailed 10-0 early but led 14-10 after 1st quarter
Lions – Bucs led 14-0 after 1st quarter
Texans – Bucs trailed 10-0 early. Game was 17-17 at halftime.
Falcons – Bucs trailed 10-0 after first quarter but led 22-16 at halftime
Yes, early turnovers hurt the Bucs badly last season, but it's really not what deflated the running game. The Bucs were usually winning at halftime, and a good running game likely would have helped them close out games and put them in the playoffs.
The Bucs did dig themselves deep holes in three of their last four games, and Joe will guess Arians still has that burned in his brain.
In the season finale, Atlanta drove down the field for a game-opening touchdown before a Ronald Jones fumble at the Bucs' 30 yard line set the stage for a Falcons field goal and a 10-0 lead. So in that game, it was the running game that thwarted the running game.