"It's A Whole Change Of Mindset"
June 9th, 2020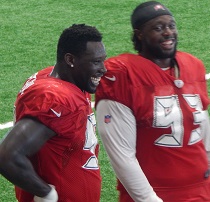 Are the Bucs feeling Tom Brady's impact already?
Would it extend in early June to a backup defensive tackle?
It seems the answer is a resounding, Yes!
Soak in the roughly 90-second video below from WFLA-TV shot at a gym in Tampa. Gabrielle Shirley caught up to Rakeem Nuñez-Roches, who is in his third year on the Bucs' defensive line after three years with Andy Reid and the Chiefs. So he's seen his share of NFL locker rooms.
Nuñez-Roches explains that Tom Brady on the roster now means "it's a whole change of mindset."
Those are very powerful words considering Bucco Bruce Arians arrived last year with a seasoned staff and high expectations.
Those expectations have been kicked up, Nuñez-Roches added, noting he and his teammates' games have to rise along with them.