Bucs Should Lock Out The Media For 2020
June 29th, 2020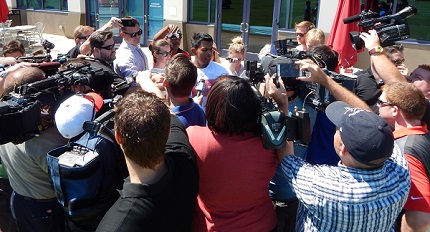 Some readers here may not realize Joe is a Bucs fan before anything else, and that is why Joe is calling for the Bucs to get clever, creative and smart when it comes to the media, The Sickness and Tampa Bay's win-now-at-all-costs 2020 season.
Joe and the rest of the mouth-breathing, finger-sucking media should be locked out of One Buc Palace and the Den of Depression for the season. There is zero reason to risk the heath of the Bucs and their success. Too much is on the line for fans.
Quote all the science you want, the safest route is to keep the media outside One Buc Palace and any stadium level Bucs players and staff are on during game days.
Yes, media drives the NFL year-round. But players and coaches easily can be made available via conference calls and 1-on-1 chats. The Bucs easily could let approved media watch video feeds of training camp practices and report on them. Fans — and the media buzz the team loves — wouldn't suffer if the Bucs media relations team is on the ball.
Team Glazer also could further leverage their in-house media (who Joe assumes will go through regular virus testing and be around players all year) to provide more diverse coverage for fans, the kind that better reflects what's actually happening on the field.
It's a nice thought to have things be almost business-as-usual for media covering the Bucs, but Joe would prefer the media get locked out entirely and the Bucs be innovative to counter whatever they feel they'd lose by not having media around the team.
Joe keeps hearing Bucs officials talk about how they will stop at nothing to field a winner. In these wacky times, that mindset should be executed to the extreme, especially with a wildly-talented roster that could be just one season from needing a rebuild job.