Bruce Arians Talks Devonta Freeman
June 4th, 2020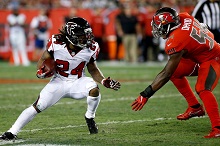 UPDATED: 12:10 p.m. – The Buccaneers' head coach had an online media chat this morning and Joe asked Bucco Bruce Arians about free agent and two-time Pro Bowl running back Devonta Freeman.
When asked about Arians' interest in Freeman, Arians didn't deny interest and said, "If his price tag is reasonable. He's not probably signed because he's turning down a lot of money and we don't have a lot of money."
Never-shy Arians, Joe believes, wouldn't have a problem saying Freeman is a guy off his radar, or someone he doesn't want. See Antonio Brown.
Arians said he is very pleased with his offensive line depth and the makeup of that unit but is actively looking for veteran running backs help. One thing driving Arians, he said, is "400+ reps" lost to date for young players because spring practices have been cancelled.
A report out of Philadelphia last week claimed the Bucs made an offer to Freeman, but then the reporter said it should have been characterized as interest instead of an "offer." It always sounded to Joe, including after a bit of research, like the Bucs let Freeman's camp know what they'd be willing pay and that they'd be eager to chat if Freeman wants to come to the table.
Allegedly, Freeman turned down in the neighborhood of $4 million from the Seahawks before they signed Carlos Hyde. He might actually be worth close to that if Arians is concerned rookies Ke'Shawn Vaughn and Raymond Calais won't get enough reps to be ready for Tom Brady on opening day. Freeman caught 59 balls and four touchdowns last year with the Falcons.