"Whoa, Tampa Bay Baby!"
May 22nd, 2020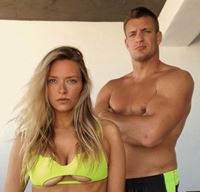 When is the last time a Bucs player appeared on a national late-night talk show? On purpose?
Joe suspects it was after the Bucs won the Super Bowl in 2003. Joe remembers Brad Johnson and Keyshawn Johnson appearing together on the "Tonight Show with Jay Leno," and Joe seems to recall Chucky as a guest on "The David Letterman Show."
And those who collect social security checks remember in the 1970s how Johnny Carson routinely used the Bucs as a punch line about losers and failures.
Last night (this morning?), that changed. Bucs tight end Rob Gronkowski (that is so cool for Joe to type) dropped in (virtually) on the "Late, Late Show with James Corden."
Gronk, of course, is promoting his made-up sports action show called "Game On!" that premiers Wednesday and just happens to air on CBS, as does Corden's show. Gronk's show is co-hosted by Venus Williams and features the Lakers Girls.
(You had Joe at "Lakers Girls.")
Apparently, Corden has a history with Gronk.
Anyway, Corden asked Gronk how it came down that he decided to come back to football and play for the Bucs. Gronk recounted the phone conversation with park-violating, home-invading Bucs quarterback Tom Brady.
"Whoa, Tampa Bay baby!" Gronk remembers telling Brady after Brady signed with the Bucs. To hear Gronk, he had Brady hollering at him before the phone conversation was finished.
You know the Bucs have far exceeded the wildest dreams of Team Glazer for offseason buzz and splash when a tight end appears on a late-night talk show.
A tight end!
That's what happens when you sign a six-time Super Bowl-winning quarterback married to a supermodel, and one of the greatest tight ends to ever play the game who dates a Sports Illustrated swimsuit cover model.
You can see a clip Gronk's appearance below.
.@RobGronkowski chatting about the Tom Brady. pic.twitter.com/8rSMW0S6ei

— The Late Late Show with James Corden (@latelateshow) May 22, 2020