"We Don't Fear That At All With This Group"
May 29th, 2020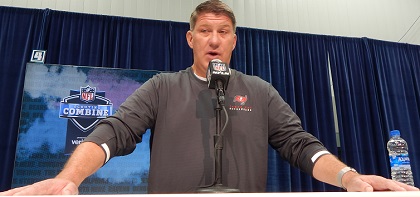 Anyone watch Rob Gronkowski's debut on "Game On!" the other night? Joe did.
All this recent pop culture attention for the Bucs has value, general manager Jason Licht explained.
The seventh-year GM told the Tampa Bay 55 podcast that the hype and spotlight enveloping the Bucs is all good, and Licht said he looks forward to how the Tom Brady/Gronk effects will get other Bucs characters and talents noticed.
"They're going to bring out personalities in our other players, too," Licht said.

"And I think that the nation is going to see that Lavonte David is a pretty damn good linebacker. You know, that's just one example. I think our offensive line is going to be, people are going to find out it's a little better than the perception is. So, you know, it's exciting."

Fear of the spotlight becoming too much for the previously off-the-radar Bucs, Jason?

"We don't fear that at all with this group," Licht said.
What a wild ride this 2020 season should be, one of the most fascinating Bucs reality shows in many years.