The Ultimate Wild Card
May 26th, 2020
BY IRA KAUFMAN
Just get there.
Winning the NFC South would be ideal, but a wild-card Tampa Bay team would loom as a very dangerous opponent in January because the Bucs boast the ultimate wild card under center.
Tom Brady has been a fantastic quarterback during the regular season and an even better one in the postseason, considering the quality of the competition.
And with an extra club in each conference qualifying for the postseason this fall, Brady's chances of stayin' alive in January are enhanced. Seven of 16 NFC clubs advance and if the Bucs are in that group, they'll enter the playoffs with a significant advantage.
Brady's 30-11 postseason record is simply remarkable, a testament to his ability to thrive under pressure. Joe Montana stands No. 2 on the all-time list with 16 postseason wins.
With all due respect to Patrick Mahomes, it's hard to imagine Brady's career playoff record will ever be challenged. It's also hard to imagine Brady retiring in a few years without another shot at the brass ring.
It just wouldn't be right.
A man with nine fourth-quarter comebacks and 13 game-winning drives in the postseason deserves to see what a post-Belichick playoff run looks like. A man who has thrown at least three TD passes in 11 playoff games (10-1 record) deserves an opportunity to end Tampa Bay's 12-year postseason drought.
And while it's true that Brady turns 43 in August, the opportunity to compete into January would make him feel forever young. When it comes to No. 12, it's hard not to get ahead of yourself. He has proven so much in the postseason, it's easy to forget the blood, sweat and tears the Bucs need to shed just to get there.
But if they do, look out.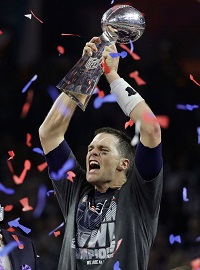 Crown Jewel
The one Brady postseason performance that obviously jumps out is the Super Bowl comeback from a 28-3 deficit against Atlanta. That's tough to beat, but I'm going with the 2015 Super Bowl rally vs. Seattle.
The 2014 Seahawks were the defending champs, with a stifling defense that yielded the fewest points and yards in the league. A unit led by Michael Bennett, Bruce Irvin, Bobby Wagner, Richard Sherman, Kam Chancellor and Earl Thomas had fueled an 8-game winning streak entering the matchup in Glendale, Ariz.
Heading into the fourth quarter, the Patriots couldn't run and Brady couldn't hide.
Seattle led 24-14 and defensive coordinator Dan Quinn, who would replace Mike Smith as Atlanta's head coach the very next day, had no reason to anticipate the Brady Blitz dead ahead.
While Malcolm Butler's stunning interception at the goal-line was the game's signature play, all Brady did down the stretch was complete 13-of-15 passes for 124 yards and two touchdowns.
When Butler picked off that ill-advised pass from Russell Wilson, Brady hopped up and down on the sidelines like a teenager who had just been accepted into the University of Florida.
Curtain Call
More than five years have passed, but Brady's enthusiasm for playing this game hasn't waned one bit. In fact, he appears even more stoked to enter the arena with a new organization, knowing he's approaching the finish line.
A lot of things have to go right for the 2020 Bucs to treat their fan to the thrill of postseason play. Brady must be well protected, a better run game needs to be established and someone needs to make some clutch kicks.
But if Bruce Arians and Todd Bowles are still preparing game plans past Jan. 3, that means Brady is back where he belongs — on a stage he commands, hunting another curtain call.