Tough Tear For Noah Spence Highlights Risk
May 27th, 2020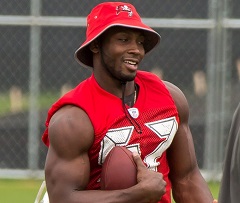 When the Buccaneers rolled out their strength and conditioning coach weeks ago to chat with local media, he talked about the challenges of players working out at home because they're prohibited from coming to the office.
One team priority was made very clear: make sure players are working out safely, which is extra important without the direct supervision during normal spring workouts at One Buc Palace.
Imagine the potential challenges of players lifting weights at home because many gyms are closed and the NFL won't let them into team facilities. Joe suspects more than a few guys have worked without a spotter — or someone reminding them of their safety-first form.
Joe brings this up today as part of sharing the sad story of former Bucs defensive end Noah Spence, who latched on with the Saints late last season. Word came last night from various sources that Spence tore his ACL while training away from the team.
Joe doesn't know what happened, but Joe thinks this highlights potential risks of players training extensively on their own.
Just think of Tom Brady running sprints in a Tampa park before he got kicked out by city enforcement goons weeks ago. Was Tom dumb enough to run on grass, where he might find holes to step in courtesy of a clown hacking his 9-iron at plastic golf balls, or perhaps dangerous land mines from a neighborhood Great Dane? Those risks don't exist on the pristine manicured grounds of One Buc Palace.
Joe just hopes Bucs players stay smart and safe, and certainly that they report minor injuries to the team so they can get rehab. While players can't report for duty, the team is available to manage their care.