Tony Gonzalez Talks Targeted Gronkowski Impact
May 5th, 2020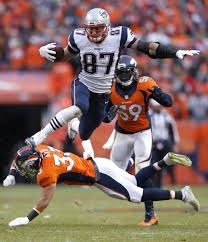 Legendary tight end Tony Gonzalez likes a very specific aspect of new Bucs tight end Rob Gronkowski's game, one that is foreign to Bucs fans.
Gonzalez told FOX Sports last week that Gronkowski was an "average" regular-season performer for the Patriots in the couple of seasons before he retired, but he was an absolute beast in the playoffs.
"When he got to the playoffs, he came alive," Gonzalez noted. "And so I think with the players that they have out there in Tampa, they got two studs out there at the tight end position. They got good tight ends, Cameron Brate, I don't know what they're going to do with O.J. Howard. He's not going to have to be the guy. He can be somebody that comes in there, catches 45 to 50 balls; I think that'd be a great season for him. And when the playoffs come, he's going to get leaned on."
Gonzalez likes that Gronkowski has lost weight, which Gonzalez says is critical late in a career. And he added that Gronkowski shouldn't have to be the punishing blocker he was and 1,000 yards receiving won't be what's asked of him.
The playoffs angle is interesting. It's a nice idea to save an all-out Gronk unleashing for the playoffs, but damn, the Bucs have to get there.
How about the Bucs ride Gronk hard, if necessary, and do everything possible to find their way to a powerful start, like 5-2, and then maybe give Gronk a midseason break/recharge?