Tom Brady & The Preseason
May 28th, 2020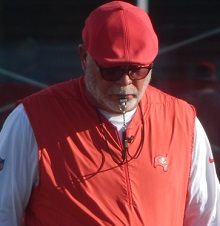 We're just 78 days from the Buccaneers' preseason opener and Joe cannot wait!
The Game 1 kickoff of preseason is always a highlight (one that typically ends a few minutes before halftime).
The Bucs open at Pittsburgh on Friday, August 14, but will that be Tom Brady's debut?
Brady only played in Game 3 of the preseason last year, but he has played in Weeks 1 and 2 in recent years.
Certainly, the Bucs offense could use the work and the jelling time after lost spring practices. However, Brady playing in Pittsburgh behind a rusty offensive line is a great way to get Brady maimed.
Hall of Fame personnel man Gil Brandt talked about Brady playing — or not playing — in preseason this week on SiriusXM NFL Radio.
Brandt was confident that fans really don't get the incredible intricacies and timing required for an effective passing game. The practice and preseason time is vital, Brandt explained. The Godfather of modern scouting and the architect of the old Cowboys dynasty spoke of how Hall of Fame head coach Tom Landry used to have dedicated "passing camp" for his team after the NFL Draft to further improve the coordination of the aerial attack. Ultimately, Brandt isn't sure how the Bucs will proceed in preseason.
Joe wonders how cautious the Bucs will be. They should be very cautious no matter what Brady wants to do in August. Still, Joe will predict Brady plays in Week 1 of the preseason, maybe one series and/or three passing attempts.
Joe's glad the Bucs have joint practices lined up with the Jaguars before Week 2 of the preseason. That should get Brady all the work he needs that week without getting hit.