Tom Brady, Jameis & Quarterback Gifts
May 4th, 2020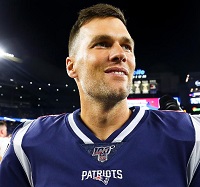 A new report on handouts by quarterbacks shines an interesting light on Bucs franchise quarterback Tom Brady and the current backup QB he replaced.
Joe has long praised Football Outsiders for its dogged work on stats they combine with an open-minded approach and more transparency than the PFF Tribe. That doesn't mean Joe loves all their stats, only that Joe considers them better than their peers.
Today, Football Outsiders published its analysis of quarterback interceptions and near interceptions from the 2019 season.
The film work was done and revealed Brady had zero tipped balls that led to interceptions last year. In contrast, Jameis Winston had two tipped balls for picks (thanks, O.J.). Ryan Fitzpatrick, Baker Mayfield and Jimmy Garoppolo each had three to lead the NFL.
Joe almost fears for any non-Gronkowski Bucs pass-catcher that leads a football into the hands of the opposition this year.
Brady was middle of the pack with seven dropped interceptions last year (aka defensive gifts), per Football Outsiders. No surprise, Jameis led the NFL with 13.
Interestingly, the NFL's best at protecting the football through air last season (adjusted interception rate) was Teddy Bridgewater. He attempted about 200 passes while Brady and Jameis were close to 600 each.