Report: No Empty Stadiums
May 5th, 2020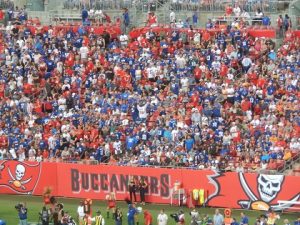 Boy, this benign throwaway, buried line sure seems really important to Joe.
The 2020 NFL schedule is to be released Thursday night. We all presume (hope?) the NFL season will kick off on time but with The Sickness floating around and no vaccine available, who knows?
In an article yesterday morning by Jake Trotter of BSPN about a fan survey on attending games with the cloud of The Sickness hanging in the air, this little item appears in the final sentence of the third paragraph.
A source told ESPN's Jeremy Fowler that the NFL is not considering that idea as an option.
"That idea" would be games played in empty stadiums, and there has been a lot of chatter about it. It seems that won't happen under NFL strongman Roger Goodell's watch.
And for those who think/desire the Bucs to sell out games this fall with their new star-studded roster, how exactly can any NFL team adhere to social distancing guidelines yet have a full stadium with folks sitting just a foot or two away in all directions?
(Anyone go out to eat yesterday since Gov. Ron DeSantis unlocked restaurants? Notice how seating was rearranged? Now imagine that being an NFL stadium and picture trying to guzzle lukewarm $8 Miller Lites and scarfing way overpriced hot dogs while also wearing a cheap mask and roasting in the scorching September sun.)
Joe is guessing the NFL and/or the television networks, which pay the majority of the bills for the NFL, do not want the optics of live games in front of empty seats chronicled forever by NFL Films.
The Miami Dolphins this week announced their plans to adhere to social distancing rules. This would drop the capacity of Joe Robbie Stadium to 15,000, per the Palm Beach Post.