"Not Just Keep Him From Getting Sacked"
May 15th, 2020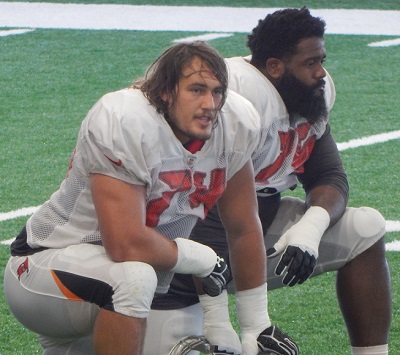 The bar for the Tampa Bay offensive line has been jacked up so high, departed Demar Dotson might not even be able to reach it.
The Bucs simply can no longer afford the number of pass protection lapses they had during the Jameis Winston era. No, Joe doesn't think the offensive line was ugly the past five seasons, though it says a lot that Dotson and 29-year-old Earl Watford, who made four starts last year, can't find jobs in a league that craves O-linemen.
Regardless, the protection has to improve markedly to improve to preserve a 43-year-old Tom Brady who can move in the pocket but not outside it, a guy who is not used to getting hit often.
Former NFL safety and personnel executive Louis Riddick underscored that today on ESPN TV. The topic was keys to the Bucs winning a Super Bowl.
"Tampa Bay has to protect him and not just keep him from getting sacked. They have to keep him from getting pressured," Riddick said.

"When you look at his 2019 season, Tom only completed only 32 percent of his passes when he was being pressured, which really throws him off. And they can't have him, you know, just completing 32 percent; that's not going to be how he's going to excel. They need to go ahead and make sure from inside out, from center to guard in particular, he stays protected and he stays clean in the pocket. So they can exploit the middle of the field with the tight ends they have and the way they are set up offensively."
Riddick went on to emphasize that The Sickness-shortened offseason is no friend to Brady dealing with a new everything on offense.
Of course, a revitalized running game would/could/should be a difference-maker on many levels.