Not Buying Super Bowl Hype
May 15th, 2020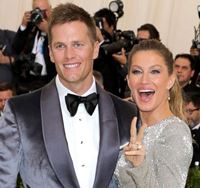 Here is one person not on the Bucs-to-the-Super Bowl bandwagon.
Look, Joe is geeked like ever fan that the team got a six-time Super Bowl winner to be its quarterback, park-violating, home-invading quarterback Tom Brady.
Still, there is one thing that Joe cannot yet wrap his head around: How can a 43-year old quarterback handle guiding a team deep into the playoffs?
Yes, yes, yes. Brady is not like most other human beings much less other quarterbacks. Duly noted. Still, as long as one bleeds red, Father Time is undefeated. Joe has a sliver of hope Brady can con Father Time for a couple of dozen more months.
One guy not jumping into the Brady pool is Nick Wright of FS1 and SiriusXM Mad Dog Radio. He explained in a recent airing of his FS1 show, "First Things First," that he doesn't believe Brady can hold up from the beatings he will likely take in Bucco Bruce Arians' offense.
Wright makes interesting points, including the lack of an offseason for Brady to work out with his new teammates; Wright is hardly alone with that take.
Wright also says comparing Brady coming to the Bucs with Peyton Manning going to the Broncos doesn't fly. He details why.
You can see the full clip below in the FS1 video, including Wright's prediction for the Bucs' 2020 season.
"If the Bucs ask Tom Brady to do what Jameis Winston did, just with fewer INTs and more effectiveness, he won't make it to Year 2 of this contract. … I don't know if the fit is there if you're asking Tom Brady to run a Bruce Arians' offense at age 43." — @getnickwright pic.twitter.com/6OT3KVezgh

— First Things First (@FTFonFS1) May 15, 2020