"I've Literally Had 20 Concussions In My Life. Probably Five Blackout Concussions"
May 13th, 2020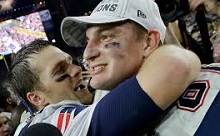 Bucs tight end Rob Gronkowski is a football warrior. That was his reputation when he arrived in the NFL with a history of injuries in college.
He's also a business man, a professional wrestler and a guy a grew up with his father in the fitness industry.
Gronk opened up seven months ago during an interview with Alex Rodriguez on The Corp. Joe was intrigued by Gronk detailing his football struggles with pain and history of traumatic brain injury.
"I've been beat up basically every single year, Gronkowski said. "But I really truly believe that I've found a way to be pain-free, a way to heal my body. And that's why I stepped away from football, but I was already so far behind. You know what I mean? I'd do it all week, but then I'd go back out in a game and just ruin myself again. But then, you know, I'd play catch-up again that week and then I'd go back out, take another big hit and ruin myself again, take another big hit the next week.

"But that's why I walked away from the game because I felt like I had an opportunity, too, that I needed to take off and heal myself. Right now, man, I can tell you this right now. I can get up. I can do anything. I'm pain-free.

"I had nine surgeries. I've had literally like 20 concussions in my life. Probably five blackout concussions, like where I don't remember anything for like 10 minutes. But I do all the right treatments and do everything right. I started eating right. Because I felt like that was huge, man. Foods heal you. Foods' the medicine. That's the way to go."
Listening to Gronk, you feel like he knows his body intimately and is extraordinarily dedicated to keeping it healthy. But at the same time, you realize that he's taken so much punishment that his future is cloudy and his football motivation is limited.
Joe sure hopes the Bucs can find the right balance for Gronk when it comes to managing his reps while still getting the most out of him.