"I've Been A Part Of This Torture And This Torment"
May 30th, 2020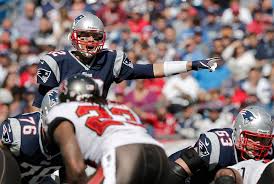 As a 13-year NFL safety and a former Pro Bowler who played for the Steelers when Bucco Bruce Arians was calling plays in Pittsburgh, Ryan Clark knows a thing or two about NFL offenses.
He also knows a few things about playing against mighty Tom Brady, the Buccaneers' new quarterback.
Clark has worked for BSPN breaking down the NFL for the past five years and he was on TV absolutely appalled that anyone would suggest Brady won't turn the Bucs around immediately.
And don't try telling Clark that Brady will have any issue in Bucco Bruce Arians' offense. You'll get a loud retort.
"It doesn't matter what the call is. He gets to the line of scrimmage — because I've been a part of this torture and this torment — and he finds the matchup," Clark said.

"He sees where you're going to vacate zones. He understands who is in man, and he gets the ball to that dude.

"Guess what [the Bucs] got now? They got a bunch of dudes; there are dudes everywhere. So the one that you're not double-covering, the one you're not rolling coverage to, he's gonna find him. That's not gonna change about Tom Brady. Bruce Arians and Byron Leftwich won't say 'You have to throw the ball to [Mike] Evans now."
Clark is convince the Bucs are a Super Bowl contender because of Brady.
He also dropped a fun take about America's Backup, Saints quarterback Jameis Winston. Clark said Jameis will be the first athlete to have a BSPN 30-for-30 documentary about him named "30-for-30."