Inside The Buccaneers' Draft Board
May 18th, 2020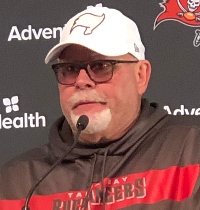 Cam Akers, J.K. Dobbins, the Bucs didn't really want those running backs in the 2020 NFL Draft.
Joe learned this via the mouth of Bucco Bruce Arians' son, Jake Arians, co-host of the TDN Fantasy podcast and a former college player who had a cup of coffee with the Buffalo Bills years ago.
Per the younger Arians, speaking on his podcast, when the Bucs were on the clock with the 45th overall pick, the running backs they coveted in the draft were off the board so they went with the smart move by selecting safety Antoine Winfield, Jr.
"All the running backs that they really wanted, the pass catching guys, were gone at that point. So you take the next biggest need, the next guy on your board. I love that pick [of Winfield], as well," Jake Arians said.
Akers (Rams) and Dobbins (Ravens), who Joe referenced above, were still on the board when Bucs picked Winfield.
Jake Arians said drafting Dobbins in Round 2 "would have been exactly like having Ronald Jones twice," noting third-round pick Ke'Shawn Vaughn is a much better pass-catching back than Dobbins.
As always with any draft, hopefully the Bucs made the correct calls, something they don't often do at running back.
---
Derrick Brooks Talks 2019 Make-Good & More
TAMPA TWO features Bucs legend Derrick Brooks and JoeBucsFan.com columnist Ira Kaufman. It's all presented by Caldeco Air Conditioning & Heating. Another great production from Joe and The Identity Tampa Bay. Enjoy!