"I Love The Expectations"
May 9th, 2020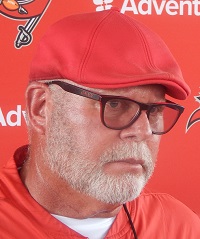 Bucco Bruce Arians studied the 2020 Tampa Bay schedule released Thursday night, opening in New Orleans followed by five prime time games before Thanksgiving, and shared his feelings with NFL Network.
In typical Arians fashion, he's fired up for the spotlight and what comes with it.
"I love it," Arians said. "I love the expectations and the excitement that brings. I think our players will enjoy it. As coaches, you have to embrace it and get ready for it. You know, I think our guys are going to be really, really excited about the season."
Arians added that he prefers the toughest parts of his season early (nothing tougher than opening at the Saints) and the big challenge is preparing players for the weekly changes in routines, which will be plentiful with this year's national attention.
Always a challenge, Arians said, is "building practice schedules around the times you're going to play so your guys' bodies [will be] awake at [kickoff]."
If the Bucs can just find their way to a 3-2 start, however they get there, Joe will feel great about the team's ability to finish strong and find its way to the postseason.