"He Just Looked Effortless"
May 31st, 2020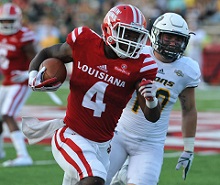 Buccaneers seventh-round pick running back Raymond Calais was labeled "a very smaller version but much faster version of David Johnson" by Bucco Bruce Arians.
He also picked up a Hall of Famer's appreciation before the draft.
Back at the NFL Scouting Combine, Terrell Davis was talking up Calais on NFL Network, saying he had a "hey-look-at-me" Combine.
"You talk about being smooth," Davis said of Calais.
"He just looked effortless. Watch him in his game film; you see how he can cut the field up."
Davis went on to say the smoothness and explosiveness Calais showed in Combine drills "translates to the tape" from his days at the University of Louisiana at Lafayette.
At 5-8, 188 pounds with returner skills, Calais is a dream player for optimists from Lakeland to Largo. Maybe, finally, the Bucs have found a gem of a dangerous and versatile speedster weapon at running back late in the draft.
Hey, it's the 31st of May; Joe can dream.
"I wouldn't say he's Tarik Cohen but he's kind of that style guy, that, you know, joystick type guy. He can go out and play wide receiver and would be a mismatch," Arians said of Calais.