Gronk's Impact
May 29th, 2020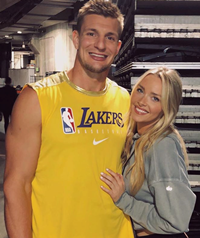 A couple of guys who know their way around a football field seem to be of the belief that the only team able to prevent Rob Gronkowski from having a big impact with the Bucs is the Bucs.
In an edition of their popular podcast, "Movin' the Sticks," former NFL scout Daniel Jeremiah and former NFL cornerback Bucky Brooks looked at Gronkowski's comeback with the Bucs and his potential impact.
Both men agree Gronk will be a massive addition to the offense if the Bucs use him correctly and that Gronk can shake off the cobwebs after being retired for a season.
"I think we can expect him to go from the couch to All-Pro if they play him the right way," Brooks said. "I know the last time we saw Rob Gronkowski, he wasn't dominating to the level we had grown accustomed to. But you have to remember, this guy averages more touchdowns a game of any tight end in NFL history. He's a dominant blocker on the edge.

"So there are two things we know what we are going to get from Rob Gronkowski. He's dominant in the red zone and he is also going to be dominant as a blocker on the edges."
The blocking is the key, Joe believes. For the folks who think the Bucs offensive line was rotten last year (many of Joe's readers are fully convinced), you can't suggest adding first-round pick Tristan Wirfs and Gronk won't improve the blocking. That is, unless you believe Wirfs isn't a right tackle and Gronk will not be in football shape to be an effective blocker.
Gronk, as Brooks points out in the NFL Network video below, is a dangerous red zone target. And something tells Joe that park-violating, home-invading quarterback Tom Brady is going to transform Mike Evans into a more feared red zone animal as well.
Can Gronk return to form in Tampa?

"We can expect him to go from couch to All-Pro if they use him the right way." 👀

📺: @MoveTheSticks | @BuckyBrooks pic.twitter.com/uOpWYhVudv

— NFL Network (@nflnetwork) May 29, 2020