Blaine Gabbert: "I Guess That's What It's Come To In This Day And Age"
May 21st, 2020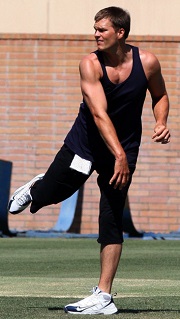 Bucs backup quarterback Blaine Gabbert seems a bit perplexed by the Tampa Bay Times flexing its paparazzi skills earlier this week.
You remember the story; the declining newspaper dispatched a threesome of journalists on a covert-style operation to watch Gabbert, Tom Brady and a small handful of Buccaneers practice on a secluded private school field in Tampa.
The photos that emerged surprised Gabbert.
"I just don't know where those pictures came from, but somebody's got a pretty good camera lens from some far distance," Gabbert told WFLA-TV. "I guess that's what it's come to in this day and age. It's like, man, pretty funny. We got a kick out of that when we saw it."
Joe doesn't find the reporting on Brady surprising at all. Heck, Joe would have loved to have gotten that tip and taken pictures by, say, standing on a truck bed.
However, what Joe finds very odd is the Times crew seemingly did not flag down players for comments as they left the school's driveway. There was no mention of that attempt in their story and a reporter on the scene, Rick Stroud, made no reference of an attempt during a subsequent radio interview on WDAE. "We merely were trying to document what we could document from a safe place that was legal," he said.
From experience, Joe knows there is one way out of that school complex and it would have been easy to stand on a public sidewalk and seek reaction from one of the Bucs players.
If you're going to play paparazzi, and Joe respects the move, then go all-in with a TMZ play to see who wants to chat.