"Who Are We Going To Play Against In The Super Bowl?"
April 12th, 2020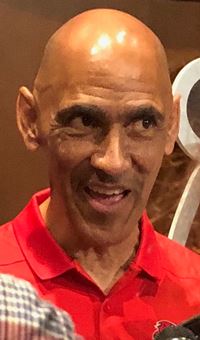 We're closing in on 100 days from the start of training camp and Joe is fired up. Screw the negative thinking.
Father Dungy is another guy feeling the positive vibes, so he explained on NBC Sports.
Dungy sat down with Mike Tirico and talked Tom Brady and the Bucs late last week.
The Hall of Fame head coach said he feels Bucs fans in Tampa totally fired up and hopeful about having a football season.
"There is so much energy and excitement here," Dungy said of his hometown Tampa. "Tom Brady has been in the playoffs every year that he's been healthy. The feeling is 'we're going' [to the playoffs]. It's just, 'Who are we playing against in the Super Bowl?'"
Dungy said he believes the presence of Tom Moore and Bruce Arians were critical for Brady after he studied how they've worked with veterans like Peyton Manning and Carson Palmer.
"[Arians and Moore are] what has Tom Brady kind of comfortable in this situation," Dungy said.
"Tom is saying, 'This is perfect for me, I've got wide good receivers and they've got a dynamic offense,'" Dungy said. "All they kind of need is that general to put it together. I can see where he'd be excited about this."
Joe liked the "general" comment from Dungy. It helps illustrate how lost offseason face-to-face time with teammates will put extra pressure on Brady to command the club and further change the culture in a hurry — if the Bucs plan to be in the Super Bowl.
Dungy went on to explain it's a big mental transition for him to start rooting for Brady after all those years of the Patriots being his biggest rival while he was leading the Colts.