Welcome To Your Computer, Tristan Wirfs
April 24th, 2020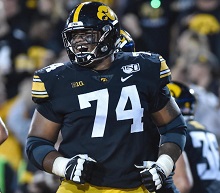 Developing an offensive lineman is a process, and it will be especially challenging this season as players won't wear cleats around coaches for months.
Bucco Bruce Arians touched on that late last night after picking beastly Iowa tackle Tristan Wirfs.
"I think one thing is not to force it," Arians said of working with the No. 13 overall pick.

"Let him come along at his pace. I think he's coming from a place that is similar to what we do set-wise and pass protections, run-game-wise. He's extremely well-coached, so I think he's ahead of the curve that way and should allow us to put him in the lineup when he is ready. We're not going to just throw him out there until he's ready."
Talent certainly won't be an issue with Wirfs, a noted explosive strongman.
"I can honestly say I don't think I've ever seen [an offensive lineman] do the things that he does athletically as far as numbers," Arians said. "On the tape he's a powerful, powerful run-blocker, extremely light-footed.

"So yeah, I mean you see everything you're looking for. It's just when is he going to be ready? We did spend a lot of time talking to him. We did virtual interviews. did everything to get to know him. And he's a very, very humble, quiet guy. I really. really like the guy. You know, I think it's going to be a really good fit."
Yeah, Arians is talking the talk about Wirfs getting "ready," but general manager Jason Licht already said Wirfs will start at right tackle.
He certainly is a relatively safe, plug-and-play prospect, so Joe certainly isn't concerned about Wirfs, but the weird offseason is a wild card.
No matter how perfect these prospects are in the top half of the first round, still about half of them make their teams cry with regret. It's what makes the draft so intriguing.