Tom Brady's Motive
April 6th, 2020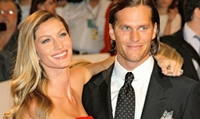 A columnist for BSPN New York who penned a critically-acclaimed biography of Bill Belicheat seems to think the move of six-time Super Bowl-winning quarterback Tom Brady to the Bucs is a Hail Mary pass by the two men running Tampa Bay's football operation.
After what many believe is a boom-or-bust move by Bucs AC/DC-loving general manager Jason Licht and Bucco Bruce Arians, Ian O'Connor tries to figure out what lies beneath the surface of Brady's motivation to pull the Bucs franchise out of the NFL's sewer and into elite status.
O'Connor is dubious, so he wrote for BSPN.
Tom Brady, the ultimate winner, was committing to play for the ultimate loserville franchise; Tampa Bay's .387 career winning percentage is the worst among all franchises in the four major sports. Brady was leaving an organization that all but patented the term "culture" for one forever defined by its non-culture. Brady was trading a coach with 31 postseason victories for a coach with one postseason victory, and the greatest roster-builder of all (also Belichick) for a GM who has lost 62 of his 96 games. …

Measured against Belichick, Arians is a stand-up comic with a funny-looking cap and a strange way of managing defeat. "Win or lose, we booze," is Arians' oft-stated philosophy. Though people close to Brady believe that he was looking for a little more humanity in his coaching ("Tom was Belichick'd out after 20 years," said one friend), and that Arians' let's-grab-a-couple-beers-and-sneak-in-nine-holes approach will be a welcome change, some league officials who know all parties wonder how Brady will adjust to a head coach who doesn't quite match Belichick's maniacal hours or attention to detail.

Yet given Arians' distinguished history with quarterbacks, the more interesting Brady gamble actually revolves around Jason Licht, the 49-year-old GM who fired two coaches in his first five years and who might have been fired himself had he not persuaded his former colleague in Arizona, Arians, to come out of retirement. (Arians is known to have made Licht's secured future, via a long-term contract extension, a requirement for taking the job in 2019.)
Although O'Connor is harsh on Licht, he does point out that Brady wanted to play for the Bucs because of the very same roster Licht cobbled together. O'Connor also noted how Belicheat liked and respected Licht when he was with the Patriots.
The way Joe looks at it, buying Brady bought Arians at least one year more year. Look, only one coach Team Glazer has hired survived back-to-back losing seasons, the very same coach won Team Glazer a Super Bowl (Chucky). Arians doesn't have that on his resume (yet).
With the team going through all the trouble of getting Brady, Joe is pretty convinced Team Glazer is not going to bounce Arians if the Bucs finish, say, 7-9 (again) largely because Brady came here in part because of Arians.
But if the Bucs don't make the playoffs in two seasons with Brady, well, let's just say the pressure is on.
Joe will never forget when Bucs co-chairman Bryan Glazer appeared on live radio with Joe's good friend, "The Big Dog," Steve Duemig, and Glazer told Duemig that if a general manager and/or coach wants to build from within using a youth movement, ownership is fine with that. When a general manager starts buying high-priced free agents, then Glazer said he and his family expect results immediately.
Joe cannot think of a bigger-named free agent than Brady.