Tom Brady Talks NFL Draft
April 25th, 2020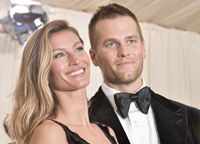 Draft picks and draft hype don't impress Tom Brady.
The Buccaneers' new quarterback made that very clear during a live draft chat with NFL.com.
Lots of NFL veterans have told Joe through the years that they don't pay attention to the draft or care about it much.
Brady was asked if he keeps a close eye on the draft after so many years in the league. The man some believe is heavily involved in personnel decisions at One Buc Palace had a firm answer.
"Yeah, definitely," Brady replied before delivering a message Bucs rookies should hear.

"I know what you mean, though. It's a lot of build-up. You know, really, whoever gets drafted, there's been so few guys over the years that, you know, have come to the Patriots when I was there that made a sudden impact. A lot of those guys have a lot of work ahead. I think it's a great night and all, and everyone gets excited for the draft and there's so much build-up and hype. But the reality is none of those guys have accomplished anything yet. So really, for the most part you want to realize, can these guys come in and be humble?

"Are they excited to learn, are they excited to learn from the veterans? You know, what kind of commitment are they willing to make to be a true professional? That's what it's going to take for them to really succeed."
Man, Brady sure sounded like he was reading from the Derrick Brooks leadership playbook. Put in the humble and hard work with no exceptions or excuses; it's what Brady is about.
"It's not what you say it's what you do," Brady said later.